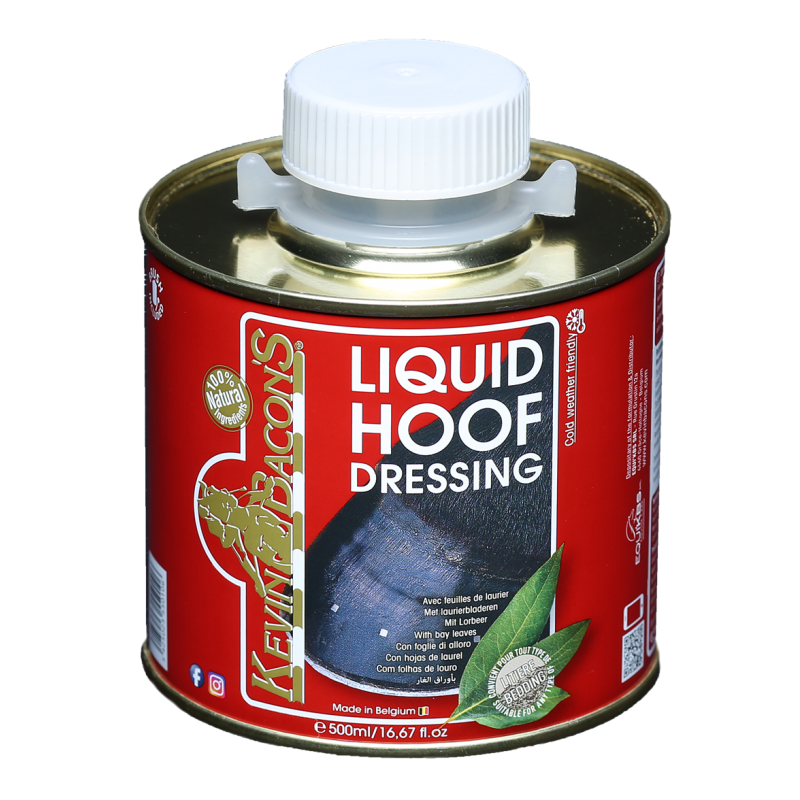  
Liquid Hoof Dressing
PROTECTIVE NOURISHING HOOF OIL.
LIQUID HOOF DRESSING is a liquid laurel balm for maintaining and protecting horses' hooves.
Maintaining the suppleness, elasticity, and balance of a horse's hooves calls for the use of top-quality products, amongst other things.
Kevin Bacon's LIQUID HOOF DRESSING reflects this philosophy. Manufactured artisanally for more than 12 years, Kevin Bacon's LIQUID HOOF DRESSING is a 100% natural product made from vegetable oils and fresh laurel leaves that are macerated to release their active substances.
Kevin Bacon's LIQUID HOOF DRESSING does not merely give the horn a pretty shine. It penetrates and nourishes the hoof deep down.
Using it regularly keeps the hoof wall from drying out, protects it from dampness, and activates horn growth.
All of these properties make Kevin Bacon's LIQUID HOOF DRESSING a remarkable product that is used and recommended by all riding professionals.
Instructions for use:
- Normal use:
Grease the feet (walls and soles) with Liquid Hoof Dressing 3-4 times a week.
- More intensive use (when the hooves are too dry):
 Hose down the feet for several minutes before applying the dressing. Repeat this operation daily for one week.
Particularly well suited for horses stabled on wood chips.
Remains easy to apply in cold weather.

Package size: 0.5L – 1L – 5L