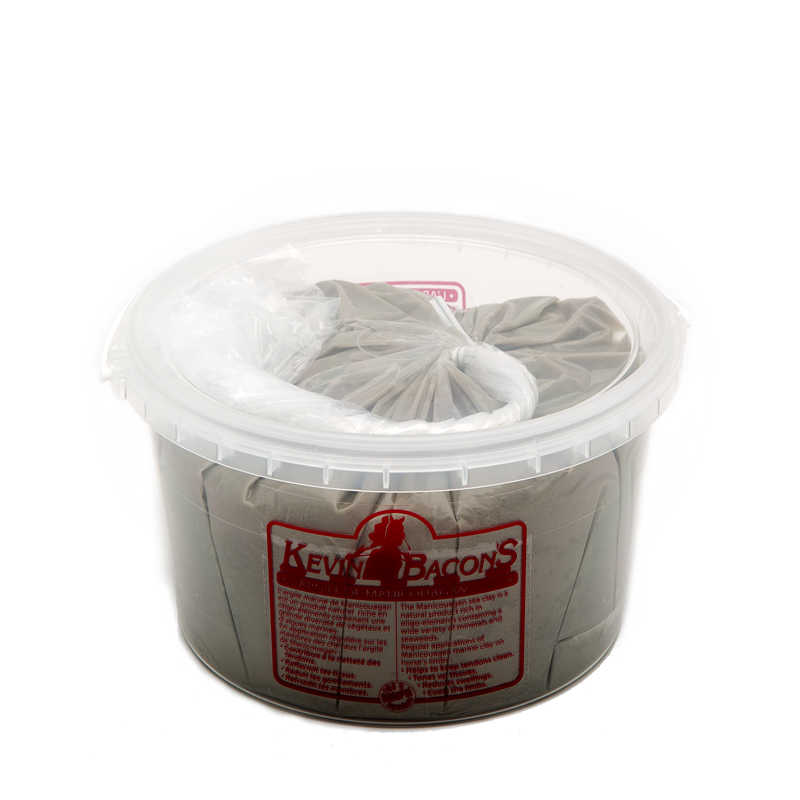  
Manicouagan Clay
A NATURAL ASTRINGENT THAT DECONGESTS, RELAXES, TONES, AND FIRMS UP TISSUES.
MANICOUAGAN SEA CLAY is a 100% natural clay that comes from a unique, unpolluted ecosystem: the Manicouagan Peninsula on the north shore of the Saint Lawrence River. This unique clay, which is naturally rich in active marine elements, is the result of major transformations after a meteorite hit the region 215 million years ago! MANICOUAGAN SEA CLAY is naturally rich in minerals and trace elements that are responsible for its unique properties. Indeed, laboratory analysis reveals the presence of forty-two different atomic elements and a huge diversity of marine plants and algae! naturally rich in marine active elements.
When applied regularly to a horse's legs, MANICOUAGAN SEA CLAY
- helps tendons to recover after intense exercise,
- cools down and firms up the limbs, and
- reduces swelling and oedema.
Instructions for use (topical use; apply by hand to the area requiring treatment):
Daily use or after intense effort:
- Cover the area to treat with a 1 cm (1/2")-thick layer of Manicouagan Sea Clay.
- Let dry.
- Rinse off with water the next day.
For an anti-inflammatory healing effect in the treatment of injuries:
- Apply the clay as a poultice.
- Cover the area with plastic wrap and a bandage.
- Rinse off the leg the next day and re-apply daily.
Container size: 2kg - 9kg
For external use