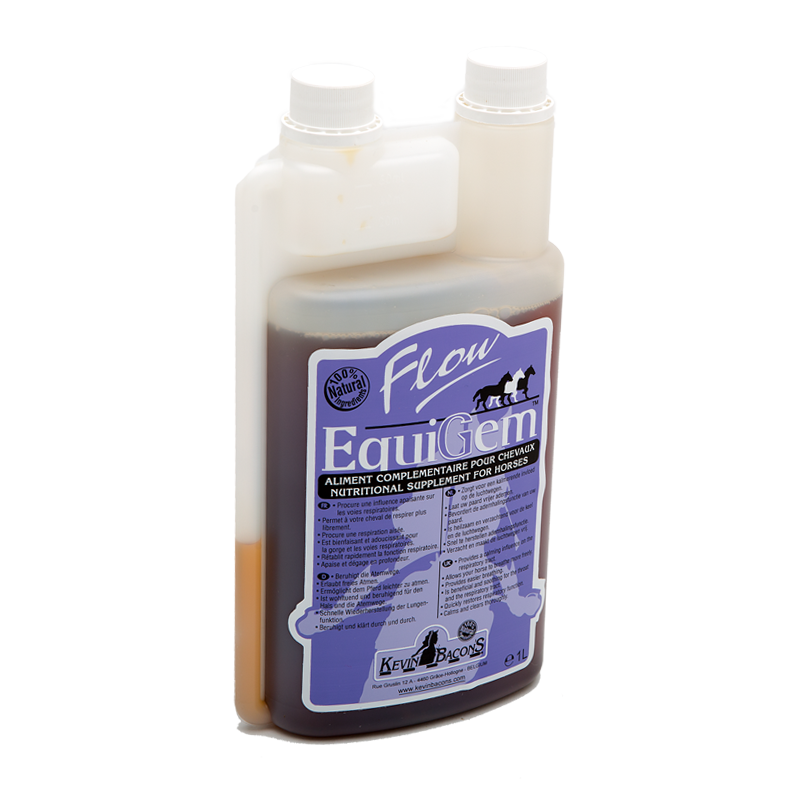  
Equigem Flow
A SUPPLEMENT FOR GREATER RESISTANCE AND FREER BREATHING.
EQUIGEM FLOW is a supplement composed of 100% natural ingredients.
EQUIGEM FLOW supports the horse's respiratory functions with a combination of selected plants, glucosamine, vitamins, and minerals.
EQUIGEM FLOW is particularly recommended for horses:
- that have caught a chill,
- with red mucous membranes,
- that are tired,
- that lack energy.
Equigem Flow may be used during periods of cold, damp weather or in dusty environments.
Ask your veterinarian for advice for other indications.
This product is not a drug and may be used during official competitions.
Instructions for use:
Shake well before use.
Mix EQUIGEM FLOW into the feed ration or squirt it directly into the horse's mouth using an oral syringe.
Recommended doses: 
- Attack dose: 5 ml/100 kg live weight twice a day for 5-6 days.
- Maintenance dose: 5 ml/100 kg live weight once a day.
Package size: 1L