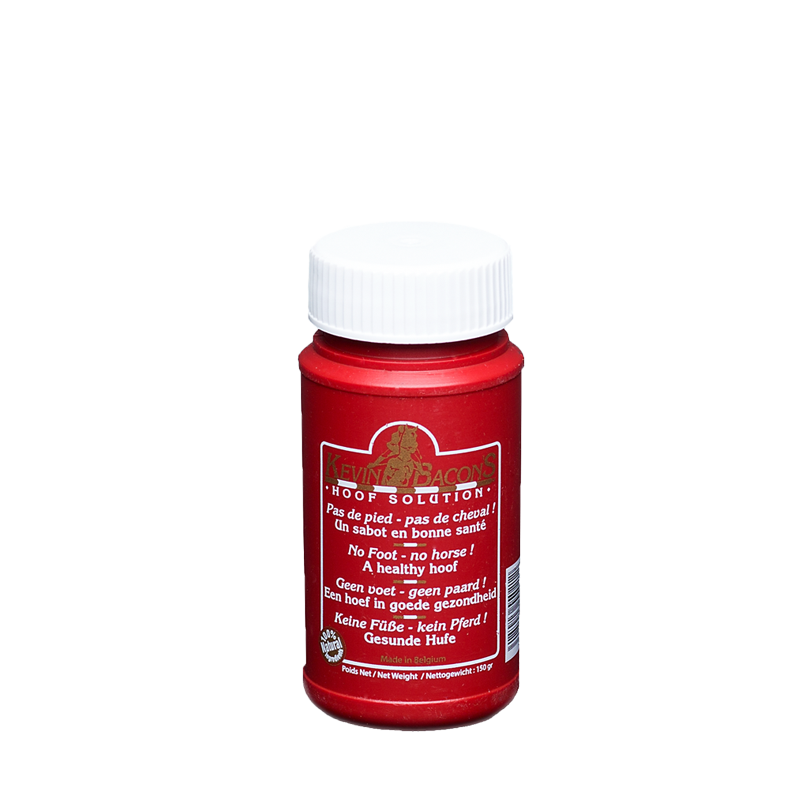  
Hoof Solution
NATURAL HOOFCARE SOLUTION FOR THE SOLE AND FROG.
The moisture and acidity of stable floors and bedding affect the soles and frogs of our horses feet, often weakening or even damaging them.
Kevin Bacon's HOOF SOLUTION quickly made a name for itself as the most effective, fastest-acting, and easiest product to use to restore hoof soundness.
HOOF SOLUTION is made from natural products. This centuries-old remedy is rooted in alchemy. Its particularly lengthy, complex, and labourious fabrication process caused it to disappear from folk traditions for 150 years.
Kevin Bacon's HOOF SOLUTION works quickly, as of the first application, and acts like a 24-hour bandage, insulating the sole and frog from the outside environment. Damaged tissues thus heal much faster thanks to the protection that it affords the newly regenerated, healthy tissue. 
Its ease of application and fast action make HOOF SOLUTION  a must that is recommended by all professionals for optimal healing.
Regular applications of Kevin Bacon's HOOF SOLUTION will keep your horse's hooves clean and sound.
Instructions for use:
Brush the sole, clefts, and frog of the foot meticulously (without using water!) and remove all dirt and necrotic tissue.
Shake the bottle a few seconds before each application in order to resuspend the active ingredients.
*Preventive care: Apply once a week
**Damaged frogs: Apply once
***Very damaged (+++) frogs: Apply once a day for 3-5 days (depending on severity)

Package size: 150 ml bottle